---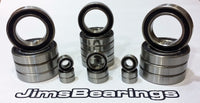 Custom Works Outlaw Pro Comp Direct Drive bearing kit
Works with the following Custom Works kit number:
14 bearings included:
8-3/16x3/8 -Hubs
2- 3/16x5/16 Flange -Steering
2- 1/4x3/8 - Diff
2- 1/2x3/4 - Diff output
This does not include the thrust washer for the ball diff
Chrome Steel Metal shield
This is our standard bearing that we have been stocking since the beginning. Chrome Steel is a great budget friendly bearing that will work in most any application.
Abec 3

Pre Greased

Chrome steel

Metal shield
Ceramic Hybrid 
Ceramic Hybrids last up to 10xs longer than Chrome Steel bearings.  These are used in applications where high speed, load and temperature are a factor. Ceramic balls are harder and rounder than stainless & chrome steel, so therefore they offer less rolling resistance. 
Abec 5

Light oil
Ceramic Silicon Nitride Si3N4 balls

Chrome steel races

Chrome steel & reinforced nylon retainers

Rubber sealed
Reinforced nylon retainers
Reinforced Nylon retainers can handle up to 60% more speed than a chrome steel retainer. Nylon retainers will lose their elasticity and become brittle in colder temperatures.
*main picture is a stock photo